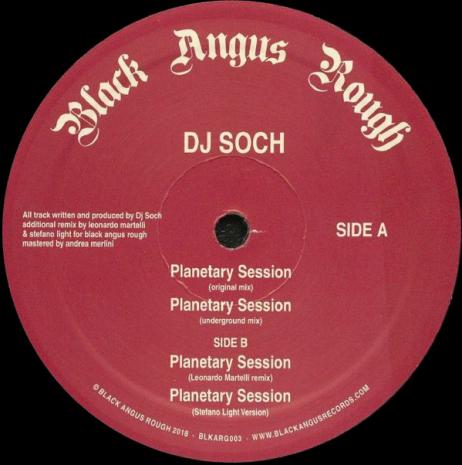 The "old school" that merge with the new making a unique sound. The "italian stallion" dj Soch, owner of Black Angus Records keep on tapping into sounds from the past making them fresher and up to date creating tracks that can persist over time. After the success of "unknown" is the time of "planetary session" the original mix is a journey through an idyllic world made of pads, synths, vocals and raw beats.
The "underground mix" is a deep and cyclical dub, a surrounding bass and a bitter vocal for an uncompromising underground dancefloor tune. For the remixes this time soch choose two young dj/producers from his home town:
Leonardo Martelli, one of the star atists of Antinote records, that create his own version with visionary atmospheres, dark and electro; Stefano Light version istead make us think of a sunset by the sea with percussive grooves and warmer and softer sounds. The release is 100% made in Foligno, a small italian city home of one of the best club in Europe, the Serendipity club, son of Dancity Festival, where artists play confronting and sharing their passion for music.